Why Nicola Says Money&Co.'s A Class Act

---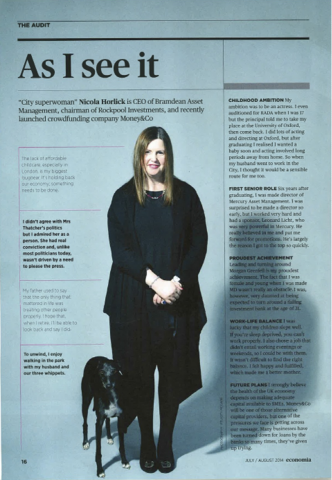 Crowdfunding now takes cenre stage
Money&Co. CEO, Nicola Horlick, harboured ambitions to be an actress, but three years as a student at Oxford turned her head, and a career in finance followed, reports Economia magazine in a recent profile of Nicola.
Economia describes itself as "the member publication for ICAEW chartered accountants... essential technical accountancy content, plus a broader range of material covering business, economics, management and finance."
Nicola acted and directed many plays as a student, and has used her knowledge of acting and finance to set up the film-development company, Derby Street Films. But her main focus is on the exciting progress of Money&Co.

Nicola tells the magazine that she strongly believes "the health of the UK economy depends on making adequate investment capital available to small and medium-sized companies. Money&Co. will be one of those alternative capital providers, but one of the problems we face is getting across our message. Many businesses been turned down for loans by the banks so many times they given up trying."
---
---