AVIVA Survey Shows SMEs Need Help Finding Alternative Finance Funds

---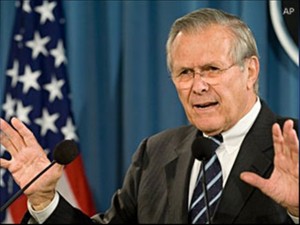 It's finance, folks, but not as SMEs know it...
British small and medium-sized companies are in Donald Rumsfeld territory. See below his famously contrived, yet logical, disquisition on knowledge and its practical use in statecraft:
"There are known knowns. These are things we know that we know. There are known unknowns. That is to say, there are things that we know we don't know. But there are also unknown unknowns. There are things we don't know we don't know."
That Rumsfeld-ism might be said to be the upshot of the latest research from giant insurer Aviva, which has just published a comprehenisive bi-annual survey of SMEs, their development and their aspirations. According to the insurer's survey, more than one third (36 per cent) of SMEs - equal to 1.8 million UK businesses - plan to invest in their business during the second half of 2014 but many are unaware of the range of finance options available to them, particularly when it comes to alternative finance.

The survey of 1,500 UK SMEs reveals that one third (33 per cent) of SMEs don't understand what alternative finance is or know how to get it. A similar proportion (29 per cent) admit to being altogether unaware of it as a funding option. For this 29 per cent, crowdfunding, a key component of the alternative finance universe, is an "unknown unknown".
"Just two in ten (19 per cent) SMEs say they have considered using alternative finance as a form of funding; with twice as many (40 per cent) saying they have not considered it as an option because they prefer to deal with their high street bank," says the survey. "Almost three quarters (70 per cent) say that they perceived alternative finance as a riskier option than applying for traditional finance via their bank.
"This is despite the benefits of alternative finance reported by many SMEs. Half (51 per cent) of those who have previously applied for alternative finance say that they did so on the basis of better rates and greater flexibility than using a high street bank, and one third (31 per cent) said it was easier to secure alternative finance than getting a loan from the bank.
"Despite the increasing profile of alternative financing options such as crowdfunding and peer-to-peer lending, Aviva's research found that one quarter (25 per cent) feel that there is not enough information available to them about the various funding options."

Robert Ledger, head of small business at Aviva, said: "The rise of alternative finance options and increasing media focus on schemes such as crowdfunding and peer-to-peer lending [mean] it's important for small businesses to understand that there are a variety of options open to them outside of traditional finance methods."
Nicola Horlick, CEO of Money&Co., said: "I endorse this view. The AVIVA survey offers a valuable insight into the need for all of us in the financial sector - mainstream or 'alternative' - to educate SMEs and help them and the UK economy grow."
Ledger goes on to commend a government website, greatbusiness.gov.uk. We endorse his view, and suggest this page as an excellent ancillary source of information for any SME looking to borrow via crowdfunding.
To learn more about borrowing, click here. To learn how to lend to an SME with Money&Co., click here. Risks are detailed here.
*And don't forget to vote in the Alternative Finance People's Choice Awards!
---
---