Sunday Thoughts On Yield – Much Ado About Muffins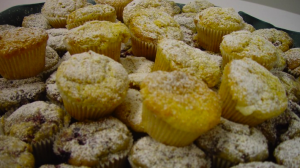 Sunday is a day for quiet reflection, a cup of coffee, perhaps accompanied by something sweet and self-indulgent – and a moment of measured thought.
Our suggested topic is investment yield. How much income is your capital generating for you? According to figures from the Building Society Association, savers and investors have £1.4 trillion held on deposit with banks and building societies. That money earns "virtually nothing", says Money&Co.'s CEO Nicola Horlick. The average instant-access rate is around 0.75, according to the BSA.
Compare that to the return achieved by lenders with Money&Co. They have obtained an average 8.3 per cent gross yield. Currently on offer are loans with indicative yields of 11.3 and 11 per cent, with higher-rated (less risky) loans available to be bought from existing lender with returns of 8.3 and 7.2 per cent.
Find out more about how to lend, the rewards and risk factors. Watch our "How To Lend With Money&Co." video here.
Happy Sunday – a day of rest, a day to invest…
---
---