Money&Co. To Spread Crowdfunding Word To The Regions

---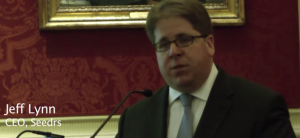 Insider Media reports on an innovative regional project, as equity crowdfunder Seedrs seesk to spread the word to the regions.
"Crowdfunding platform Seedrs and Newport-based Impact Innovation will partner with the Welsh Government on a new £20m, six-year business support programme aimed at high growth companies," reports IM.
"The Accelerated Growth Programme (AGP) is backed by the European Regional Development Fund and aims to work with 1,000 Welsh companies.
"Businesses selected for the AGP will receive up to three years support from a group of experienced entrepreneurs, access to professional advisory services, a series of management development master classes and networking and trading opportunities.
"Seedrs will serve as the funding partner and will work with participating businesses to provide opportunities for raising capital."

Jeff Lynn, Seedrs CEO gave a typically fine and feisty presentation on the virtues of bringing the crowd together with companies eeking equity investment at our recent conference. It's all about the democratisation of finance, we argue, along with Seedrs. Jeff, born American, takes democracy seriously - he is a naturalised British citizen, and voted for the first time in the May General Election. See extracts of the Discovering The Power Of The Crowd conference speeches: You can get a notion of how vigorous, engaging and worthwhile this day-long conference was by watching this short video.
We're hoping Jeff will take regionalisation to conferencing level. Our next conference is planned for Exeter in the autumn, in association with regional legal powerhouse, Foot Anstey. After that, there have been calls for our CEO, Nicola Horlick, to revisit her home town of Liverpool, where a visit last year went down very well.

*** Are you registered with Money&Co.?
Our registered users had the opportunity to claim a ticket at the recent Discovering The Power Of The Crowd conference at a discount of £40 to the full £190 price, which included a star-studded line-up of speakers, lunch and networking drinks. We are planning another conference in Exeter this autumn, with fuller detail to be released soon.Register to make loans and to benefit from future conference discounts by signing up here. It takes just a few minutes.
---
---