A Real Steel Deal - A-Rated Loan Gets Good Start

---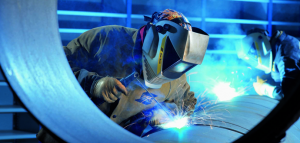 We are pleased to host a new loan offering on site. Real Engineering (Yorkshire) Ltd. Is seeking £367,000 in a five-year loan. Rated by our credit analysts at "A", the loan is already 19 per cent funded, on its third day on offer. The indicative yield is 8.5 per cent, and the purpose of the loan is to fund growth.
Below, we reproduce some of Real Engineering's loan pitch. We have used our best efforts to ensure that everything stated below is accurate, but the words are those of the borrower.

"We are a steel fabrication business that specialises in conveyor belt systems and water filtration systems, as well as offering general fabrication services. We have a team of 43 staff including 20 highly skilled engineers, and utilise laser cutting, plasma cutting and steel folding machinery to prepare the parts for our technicians to weld together. We have a core customer base of four worldwide businesses and have recently won significant new contracts with a national supermarket and major bakery business.

"The business was founded as a partnership in 2002 by two of the directors - Wayne Middleton and John Thornton. A year later the business was incorporated and has exhibited steady growth since then. The business has been able to demonstrate its specialist knowledge and a high quality level of work that has allowed it to build a strong customer base. Since 2011, the business has been ISO9001 compliant, which has further established its reputation. In May 2015, the founders sold a controlling stake in the business to funds advised by Thames Valley Capital (TVC), a FCA authorised private equity firm, whilst maintaining a 20% stake themselves. TVC's involvement in the business adds a new level of financial support and strategic governance that will allow the management team to focus on continuing to grow the business."
Register for more detail on the performance of the borrower, its recent performance, and competition in its marketplace.

*** Are you registered with Money&Co.?
Our registered users had the opportunity to claim a ticket at the recent Discovering The Power Of The Crowd conference at a discount of £40 to the full £190 price, which included a star-studded line-up of speakers, lunch and networking drinks. We are planning another conference in Exeter on 17th September with sponsors, South-Western law firm, Foot Anstey. Register to make loans and to benefit from future conference discounts by signing up here. It takes just a few minutes.
Risk
Please remember that lending carries risk. See warnings on our Home page and in Frequently Asked Questions.
---
---