Lenders Fund A-Rated Engineers As Crowd Promotes Female Entrepreneurs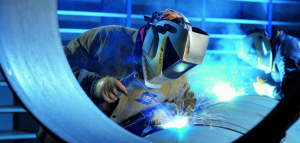 Today, we contemplate the closing of the latest loan auction tonight, and allow ourselves a moment of congratulation.
Congratulations to our lenders, who are currently achieving a gross rate of return of just over 9 per cent. Congratulations also to our borrower, Real Engineering (Yorkshire) Ltd (pictured)., which is getting funds for growth. As this article is being written, bids are coming in, and the average cost of credit is getting lower and lower.
We confidently expect however that the outcome will be of benefit to both sides of the equation: lenders will get an excellent return on their P2P loans, and the borrower will get the lifeblood that is funding capital.

Meanwhile, Goncalo de Vasconcelos, founder of the equity crowdfunding platform, SyndicateRoom, offers further good news from the world of the crowd. Writing in Forbes, Goncalo argues that crowdfunding has helped generate a surge in female entrepreneurs.
Somewhat mystifyingly (to our content team, at least) Goncalo fails to note that Money&Co. was founded and is led by a female entrepreneur in the form of Nicola Horlick. But you can't have everything, can you? It's still a piece of good news to be celebrated.
"Venture capital has let women-led companies down. Since 2005 only 9.7% of US venture-backed founding teams included a woman. However, things are about to change," writes Goncalo. "Crowdfunding has seen a surge of female-led companies and women are standing out both as entrepreneurs and investors. Welcome to the future of early stage finance.
"A recent research report by Compass identified that currently only 10% of entrepreneurs in the UK are women. A large percentage of companies I come across have been founded by men (SyndicateRoom included). However if you look at the companies that perform the best, the percentage changes and I see many more with women as founders or co-founders, anecdotally suggesting that having women as founders increases the likelihood of success (a completely unproven and non-scientific suggestion, I might add). However, as Nick Beim highlighted, the following handful of companies all had female founders and together are now worth over £38bn – Epic Systems, VMWare, Eventbrite, Theranos, Genomic Health, Net-a-Porter, Lynda.com, Gilt Groupe, Minted, Care.com and Houzz."
Risk
*** Follow the progress of our loans here. Remember lending carries risk. See the warnings on Lend, Home and Frequently Asked Questions pages.
---
---