Choice Widens For Alternative-Finance ISAs and SIPPs, Says FT

---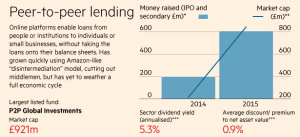 "Asset classes traditionally financed by banks or big institutions, and previously deemed too long-term, illiquid or risky for retail investors, are now being packaged up as listed funds and traded on stock markets, where portfolio managers can buy them - leading to their possible presence in your Isa or self-invested personal pension (SIPP))," writes Judith Evans in The Financial Times.
That's good news for investors seeking a wider rage of assets to include in ISAs and SIPPs. These "alternative" assets are increasingly available - and will be more so after the Innovative Finance ISA comes into play next April. Ms Evans goes on to report comment from industry participants:
"'There's a lack of return on bank deposits, there's growing pressure on investors to look elsewhere for income, and there are growing concerns over fixed income markets, so people have broadened and deepened where they look for that yield,' says Gary Potter, co-head of multi-manager at F&C Asset Management.
'At the same time, as the result of the credit crunch, banks have been delevearging their balance sheets. There are a multitude of influences promoting the backdrop for [funds investing in] assets of an alternative nature.'
"The crisis, during which many markets fell sharply in sync, also drove the hunt for so-called "uncorrelated" assets, which do not mirror the market movements of equities or bonds. But these assets carry different risks, and fund managers vary widely in their assessments of which "alternative" asset classes offer a sensible trade-off between risk and return.
"'Specialist property, student accommodation, medical centres, even garage forecourts - they're canaries in the gold mine, reaching out for new ways of generating returns,' says David Coombs, head of multi-asset investments at Rathbone Brothers."

The loans we make at Money&Co. are designed to provide excellent returns on lenders' capital (currently averaging a gross yield of 8.8 per cent) and to find businesses the capital they need to grow. They are known as peer-to-peer (P2P) business loans.
The borrowing side of the equation is explained here.
Peer-to-peer borrowing allows people to lend directly to other people or businesses. Money & Co, a crowdfunding platform, focuses on bringing businesses together with people via the peer-to-peer or p2p process. The people lend directly to the borrowing company.
For more information about crowdfunding and P2P lending and borrowing, visit our Knowledge Hub.
Risk
NB Lending carries risk. See explanations on Home, Lend and FAQ pages.
---
---