Prosperity For SMEs in Europe - British Influence Conference Feature

---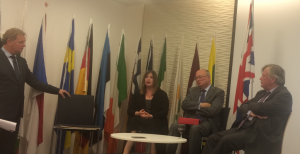 Staying in the European Union and completing the single market will benefit small and medium-sized enterprises (SMEs) and help create thousands of jobs.
This was the message delivered by Money&Co. CEO Nicola Horlick at the launch of the Prosperity Forum, the business voice of the British Influence (BI) lobby group. BI is a pro-European group, with the objective of keeping Britain at the heart of Europe and exercising influence from within to generate economic growth, create jobs and play an influential role in the development of Britain in Europe.
Nicola spoke at a meeting also attended by Malcolm Harbour of the Digital Policy Alliance, a former MEP, and Kenneth Clarke, the senior Tory politician and former Chancellor of the Exchequer. Our illustration shows Nicola, Mr Harbour and Mr Clarke, seated, with the meeting's moderator, Peter Wilding, on the left.
"I'm making an argument that's primarily about business, not politics," said Nicola, who will lead the Prosperity Forum ahead of the forthcoming referendum on the UK's EU membership.
"As a teenager in the 1970s I was leafleting and knocking on doors on behalf of the pro-Europe campaign. Europe is our biggest market, and it's vital to keep the doors of trade open. This can only benefit SMEs, the unsung heroes of the UK's economic recovery."
UK SMEs are doing exceptionally well – and outperforming their German counterparts, according to most important criteria.
BDO (a UK accountancy firm) produced a startling piece of research earlier this year. It showed that for the first time, UK mid-sized companies have overtaken the Mittelstand (German SMEs) both in terms of sales generated and the number of people employed.
Nicola wrote a blog on this startling success at the time: "According to BDO, UK mid-sized companies generated 1.92 trillion euros of sales in 2013 against 1.78 trillion euros for German companies" writes Nicola.
"The definition used for mid-sized companies was those with turnover of between £10 million and £300 million. There are 35,299 UK companies in this category and they employ 9.3 million people. Furthermore, BDO found that UK mid-sized companies had grown turnover by 33 per cent over the previous five years whilst the Mittelstand had grown turnover by only 12 per cent over the same period."

BI and the Prosperity Forum will feature in the forthcoming conference focusing on SME funding and the opportunities they afford individuals to lend and invest: "Alternative Funding: New Solutions To Old Problems". Cubism Law, and Crowdfunding intelligence platform, Another Crowd, are also sponsoring the event.

The day-long conference, to be held at the RAC club in London's Pall Mall on 12th October, will examine how in today's world it is possible to:
Survey alternative finance, including crowdfunding, examine seed and mezzanine equity capital, loan credit and other products from diverse sources
Maximise the funding opportunities of alternative finance and crowdfunding
Provide a balanced portfolio of high-yield debt and risk-weighted equity for individual investors and lenders
Create a new asset class of intellectual property, safeguarded within an agile regulatory framework
Drive crowdfunded economic growth in a dynamic, but ethically and transparently regulated fashion
This useful, practical, cutting-edge conference includes lunch and networking drinks. To claim the last places – with a £25 per cent discount for Money&Co. users – click here.
---
---