UK P2P Crowd Gets Ahead Of American Cousins

---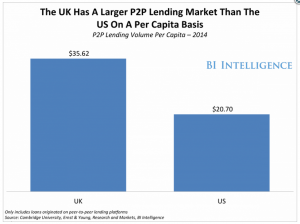 The UK generated nearly $2.3 billion in peer-to-peer (P2P) loans in 2014, making its alternative lending market the largest in the world on a per capita basis," report's India's financial news platform, Business Insider: "To illustrate, 72 per cent more lending volume is transacted in the UK than in the US per person."

The report continues that "the UK's success in P2P lending can be largely attributed to a positive regulatory environment and consumer attitudes that are wary of traditional banking. Now, continental Europe is following UK's lead, generating significant activity over the past three years: countries with large economies that weren't generating any revenue in P2P business lending are processing millions."

The report cites the ground-breaking (and free) intelligence published by the Cambridge Judge Business School and Ernst & Young crwodfunding survey. Below we list some of the headline points from the Business Insider report:
The UK's P2P lending market is 72% larger than the US' on a per capita basis.
Consumer attitudes and habits in the UK lend themselves to a thriving alternative finance market.
High mobile and internet penetration: Mobile and internet penetration in the UK were 131% and 84%, respectively, in 2014. That internet penetration rate is among the highest in the world, while mobile penetration is one percentage point lower than EU frontrunner Germany
Early adopters of e-commerce: In 2012, the UK's consumer e-commerce spend per capita was $1754, higher than other developed nations like the US, France, and Germany.
Faster adoption of new payment methods: The UK launched the UK Faster Payment service in 2008, allowing UK citizens to receive mobile and online payments within minutes. Other developed countries like the US, meanwhile, are still debating how to implement a real-time system.
Europe is the next big market for P2P lending: The alternative finance market in Europe reached nearly €3 billion ($3.9 billion) in 2014, a 144% jump, and small-business P2P loan volume in France grew almost 4,000% last year, to reach €8.2 million ($10.6 million).
Although the industry is flourishing, there are serious risks that could derail it: Interest rate hikes, new regulations, frayed bank relationships, and other factors could put a stop to the industry's current surge.
More detail is available by clicking here.

Learn More About Crowdfunding, Register To Lend
Facts and tips about crowdfunding in general are available by reading our knowledge hub, here.
To learn more about getting good returns on capital potential lenders should click here. Remember, when lending your capital is at risk – please read the warnings on our Home, Lend and Frequently Asked Questions pages.
---
---