Crowdfunders Push Back Against 'Genius Lenders' Criticism

---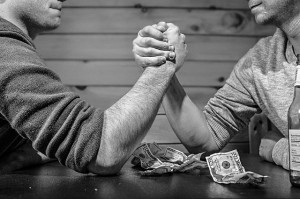 We note with interest – and broad approval – remarks made by Samir Desai, co-founder of our bigger brother in the peer-to-peer (P2P) lending sector.
Speaking at AltFi's recent conference, Mr Desai reacted to Lord Adair Turner's remarks on the BBC's Radio 4 Today programme. Lord Turner criticised the credit-analysis process and lending policies of P2P lenders. At the time of making his comments Lord Turner was a director of Oak North, a "challenger bank" and, as such, a direct competitor of P2P lenders. This salient fact was not, do far as we are aware, reported at the time by the BBC - although it was picked up by Helen Dunkley in the Financial Times the next day. Money&Co. has challenged the BBC on this, and we will be writing a column in the trade media expressing our own views on Lord Turner's remarks – and the balance, or lack of it, in the way they were reported.
UK Business Insider reports Samir Desai as saying: "'I don't agree with some of the credit assessment stuff and I think many platforms have invited Lord Turner in to view our processes, reassure him, because I think it is important that we tackle this criticism head-on rather than just shout him down.'
"But Desai admits that there is still one big question asked of the industry that it can't yet answer. He said: "I think the stuff around the recession is obvious the thing that we talk about a lot internally, we model to, we try and create buffers for. That is clearly the most pertinent question that anyone can ask about our industry."
UK Business Insider also reports: "The peer-to-peer industry reacted angrily to Lord Turner's comments at the time, claiming their underwriting standards are as good as, if not better than, the banks."

We have facilitated loans of some £7 million at Money&Co. since launch. The average return achieved by Money&Co. lenders is over 9.1 per cent. But please be mindful of the risks associated with P2P (see FAQs) as well as the good returns to be had: See here the latest of several articles (links to earlier pieces are embedded in this one).
SMEs with at least three years' filed accounts and a strong track record of profitability who are looking to borrow from Money&Co. should click here. Facts and tips about crowdfunding in general are available by reading our knowledge hub, here.
To learn more about getting good returns on capital potential lenders should click here.Remember, when lending your capital is at risk – please read the warnings on our Home, Lend and Frequently Asked Questions pages.
---
---