Treasure Hunt Second £1k Prize Draw Saturday Night

---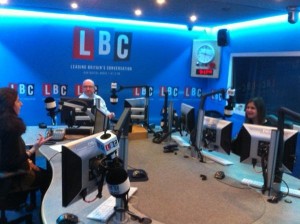 Nicola Horlick and Clive Bull in the LBC Radio studios
It's been a hectic week – and the already frenetic pace is picking up.
Money&Co. CEO Nicola Horlick spent an hour in the company of LBC Radio and host Clive Bull on Thursday. The discussion ranged from work-life balance to the state of the global economy and the markets (see Nicola's latest blog) - and of course the democratic revolution in finance, otherwise known as crowdfunding and peer-to-peer (P2P) loan financing.
And to top it off, Nicola was able to offer LBC listeners information about how to join our Treasure Hunt. We announced the winner of our first mini-treasure hunt yesterday (Birgitta from London), and the second mini-treasure hunt is already under way, and the draw will take place tonight.
The grand prize of £10,000 will come at the end of all five mini-treasure hunts. All you have to do is play the previous games successfully and collect all five parts of the five-part code. If you start playing today, you'll qualify for tonight's mini-prize draw. But you'll still need the code from the first mini-prize draw to enter the grand prize draw. You won't win the first money from the first draw – but you'll be in with a shout for the big one.
Start playing this fun, free-to-enter game by clicking here.
---
---